CONNECT. ENCOURAGE. EQUIP.
The Brook Women's Ministry is where every woman can find connection, be filled with encouragement and become equipped in God's Word.
Make sure to mark your calendar for opportunities to get involved and connect with other women here at The Brook:
May 22 • Brook Women's Summer Schedule Launch (after each service)
June 11 • Second Saturday @ 9-11 AM
Cafe Marrese
11729 Spring Cypress Rd., Tomball 77377
June 20 • Monday Funday 7-9 PM
Keep a look out for more details! If you have any questions email us,
women@thebrook.net
Every 2nd Saturday of the month Brook Women gather for fellowship and fun. This is a great time to make new connections and strengthen bonds. This spring, we are meeting up at different coffee shops in the area. Check our Facebook page, The Brook Church Women, for details of this monthly gathering or reach out to women@thebrook.net.

June 11 • 9-11 AM • Cafe Marrese
11729 Spring Cypress Rd.
Tomball, TX 77377

July 9 • 9-11 AM • Just Love Coffee Cafe
13727 Sunset Canyon Dr.
Tomball, TX 77377

August 13 • 9-11 AM • Barbarossa Coffee
9222 Louetta Rd.
Spring TX, 77379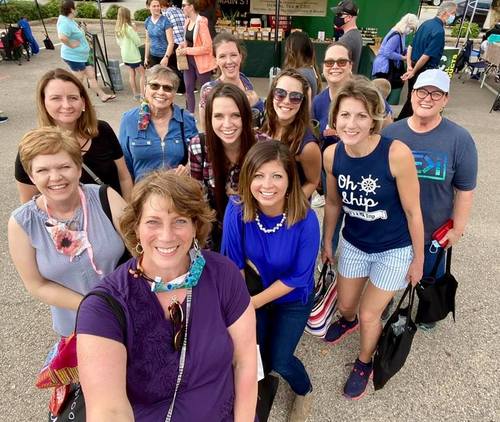 This summer, we will have one MONDAY FUNDAY gathering each month. These events are opportunities to get connected to other women at The Brook to enjoy time together outside of a Sunday morning. Our hope is that each woman that attends will feel encouraged, strengthened, and better connected. Check out the events that we have planned and make sure to register for the dates that you'd like to attend. There is a spot saved for you, so we hope to see you there!


June 20: Game Night
@ 7-9 PM
Join us for a fun night with multiple games and lots of laughs! Sign up to bring your favorite appetizer or dessert. This event will be held at The Brook.
[No childcare provided.]


July 11: Cookies + Crafts @ 7-9 PM

Join us for a fun night of fellowship and crafting. We will be making blankets as we enjoy an assortment of cookies! The blankets will be given to mamas and babies that receive care from a local pregnancy center that The Brook sponsors. Registration is $10 to cover materials. This event will be held at The Brook.
[No childcare provided.]


August 8: Swimming + Sundaes @ 7-9 PM
Join us poolside for ice cream sundaes and swimming at Lisa Kelly's beautiful pool. Please register to bring a topping as we will be providing the ice cream. Location information will be given at the time of registration.
[No childcare provided.]
Women's Ministry Leader Team

This group of ladies is honored to serve the women of The Brook Church. If you are looking to get better connected, look for one of these team members this Sunday! We would love to meet you!
Follow us on social media.
Join our Facebook Group to stay up to date with The Brook Women